EasyDate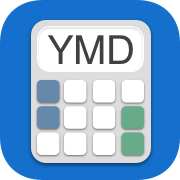 EasyDate is a date utility app. It can help you easily calculate target date.
Features:
Calculate target date from right now or from a custom starting date.
(for example, 10 days before today, 40 weeks after 2022/01/01).
Easily get current date and time.
When you set the number as 0, you will get curent date and time.
EasyDate keyboard helps you enter date fast in other apps.
You can enter date, day of the week, and time.
Support for multiple date format, for example:

yyyy-MM-dd
MM/dd/yyyy
dd.MM.yyyy
etc.
Go to App Store
Privacy Policy
All Apps